Training
2006-2009
MA Degree, Royal College of Art
1989-1992
Ba (Hons) Ceramic Design
Central Saint Martins College of Art & Design
Exhibitions
2022
Battle-Worn Series- Showroom Marsden Woo Gallery
2021
The Contemporary Art Society at Mount Street-London Singapore Ceramics Now 2021 - Group exhibition - Gillman Barracks, Singapore 2020 Mixed display at Marsden Woo Gallery
2019
Women Artists: Act 1, group show, at Cartwright Hall Art Gallery, Bradford
Mixed display at Marsden Woo Gallery
2018
The Contingency: Solo Show, Marsden Woo Gallery
MASTERS OF BRITISH STUDIO POTTERY - Collect, London
Material earth: myth, material and metamorphosis- group show, Messums Wiltshire
Mixed display at Marsden Woo Gallery
2017
Mixed display at Marsden Woo Gallery
2016
Zoomorphic -

Llantarnam Grange Arts Centre, Wales
Alchemy - Solo Show,

Marsden Woo Gallery, London
Imperfectly Perfect - Solo Show - Lacoste Gallery, US
2015 Gallery NSW, Australia Australian Ceramics Triennale 2015 'Many a Slip' A group exhibition curated by Alison Britton at Marsden Woo Gallery
Power of ten, Sit Select Exhibition and Festival Stroud
The Remade Series - solo show, Lacoste Gallery, Concord USA
2014
ING Discerning Eye Exhibition, London
ECAR final show, Boston, USA
Museums at Night with host Grayson Perry – Connect 10, York Museum Trust
2013
Mixed Display at Marsden Woo Gallery
Unbounded - solo show, November at Marsden Woo Gallery
Sculptural Ceramics, Pangolin London
FIRST@108 Public Art Award, The Royal British Society of Sculptors
2012
Mixed Display at Marsden Woo, Gallery Artist's
2011
Mixed Display at Marsden Woo Gallery
The Final Selection at Billling Place, Anthony Shaw Collection
2010
Arts Foundation Ceramic Awards 2011, Shortlisted for the 2011 Arts Foundation Ceramics Fellowship
2009
'Conflicts', Marsden Woo Gallery, London
2008
Man Power Photography Awards, 2nd Prize,Lower Galleries, Royal College of Art
2007
'The Intervening Guests', Leighton House Museum, London
Selected exhibitions before 2007:
Sofa at Chicago and New York, USA, Artform - West Palm Beach, Florida USA,Fletcher Challenge Awards, New
Zealand.
Claude Andre Gallery, Bruxelles, Belgium. Summer Exhibition, Royal Academy of Arts, Crafts Council showcase at
the V&A,
The Geffrye Museum, London.
Awards
201
8 The Adolph & Esther Gottlieb Foundation Emergency grant
2014 The Oppenheim-John Downes Memorial Trust Award
2013 Short listed, 2013 FIRST@108 Public Art Award, RBSS
2011 Shortlisted, 2011 Arts Foundation Ceramics Fellowship
2008 Second Prize, Man Photography Awards
1997 New Exhibitors Prize Chelsea Crafts Fair
1996 The Crafts Council Setting-Up Grant
Residencies
2015 Archie Bray, USA
2015 Craft Centre NSW, Australia
2014 Emmanuel College, Boston USA
Public collections
The John Christian Collection, UK
Archie Bray Foundation USA
Sculptureum New Zealand
Talks and seminars
2017 Star Academy Singapore CAPS
2015 NAFA Singapore
2015 SOTA Singapore
2015 National Art School, Sydney Australia
2015 Winter workshops, Australia NSW
2015 Lacoste Gallery, Concord USA
2015 Emmanuel College, Boston USA
2015 SITSelect Festival exhibition and seminar for 2015, Stroud
2014 Emmanuel College Boston
2013 Marsden Woo Gallery 'Unbounded' in discussion with Alison Britton
2011 Marsden Woo Gallery 'Introducing' in discussion with Glenn Adamson
Publications after 2009
2019 Nov/Dec - Ceramic Review - Potters on Pots
2016 Nov/Dec - Ceramic Review - Under the Gaze of the Beasts (review)
2015 June - Ceramic Now Magazine - The Remade Series, Boston - Exhibition review
2015 Feb - Boston Globe - The Remade Series - Exhibition review
2014 Dec/Jan - Ceramic Art and Perception - Review Unbounded (review)
2014 Dec/Jan – Ceramic Review – 'A Time Before Wolves' (article)
2014 may/Jun -Ceramic Review – Review of Unbounded (review)
2012 Sept – Bible of British Taste – The Anthony Shaw Collection (online resource)
2012 Mar/Apr -Ceramic Review – from Cynics to Celebrants (article)
2011 Jan – Apollo Magazine – Fired by Clay (article)
2010 May - Studio by Phil Sayer – (book)
2010 March - AN Magazine – The Big Picture (article)
Represented in the United Kingdom by Marsden Woo Gallery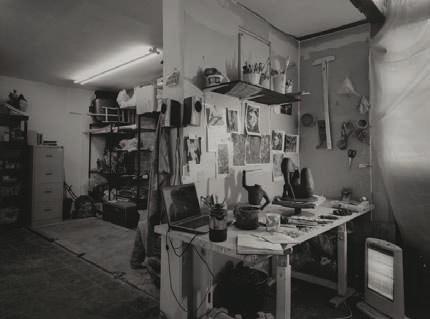 Photograghed by Phil Sayer

.



My clay creations are seemingly personal yet often draw upon found sources, such as images from books and postcards, as well as photographs I have taken myself. Works are inspired by the flow of things seen every day, as well as by the art I look at, from the past. With a passion for the European arts and its spiritual persuasions, I find ways to translate this source material into my own experience in the form of drawings, paintings and sculptures, which are crafted from red and white earthenware and found objects. The works are freighted with strangeness and perhaps seem a world apart, drawing the viewer into a beguiling perceptual experience.